If you know one thing about the beloved city of Bartlett, Texas, something fantastic is just around the corner. The Bartlett Lumber Yard has been a true testament to this over the years, transforming the city with its incredible mission. With its perfectly preserved past, the Bartlett Lumber Yard has quickly become an integral part of our community.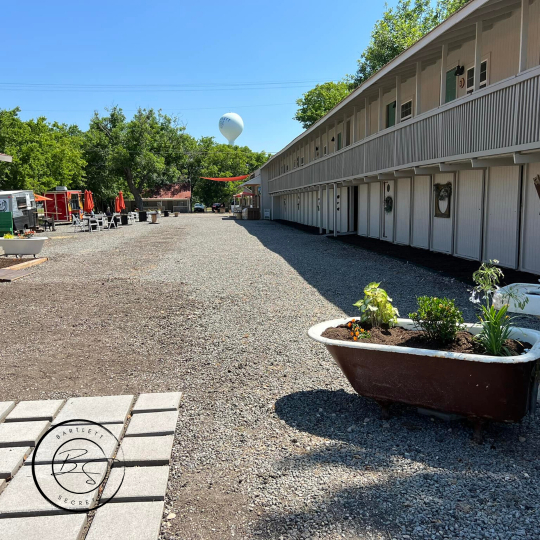 From its deliciously unique food trucks to its charming play area and hang-out spot for locals, visitors, and newcomers, the Lumber Yard always has something fun to offer!
Food Trucks
Nestled in the heart of the Lumber Yard are some of the city's best food trucks and dining destinations. Whether you're devouring the abundance of Southern cuisine offered at Caszmio's or going back for seconds of Yummy Arepas' delicious Colombian dishes, the Bartlett Lumber Yard food trucks will keep you full this summer season.
Farmers Markets
This summer and fall, discover what makes our favorite town so refreshingly bright with the Bartlett Farmers Market. With deliciously rich vegetables direct from our fields, farm fresh eggs, and Miss Vickie's unmatched cakes, the Bartlett Farmers Market is a must on our summer bucket lists this year. Check it out every fourth weekend this summer at the Bartlett Lumber Yard!
Upcoming Events
From our favorite local bands performing to the most unique art workshops in the state, the Bartlett Lumber Yard has unparalleled events this summer. Check out some that are coming up soon!
Clay Crow: Chainsaw Art | July 1st, 9AM – 1PM
Enjoy some refreshing Hawaiian Shaved Ice and local beer specials all day while marveling at Clay Crow's incredible live chainsaw carvings!
Live DJ: Old-School Freestyle | July 8th, 7PM – 9PM
Start the season with a bang at one of the Lumber Yard's best events, a good ol' summer hangout! Kick back with our favorite old-school freestyle tunes, a delicious dish from Perez BBQ, and a sweet treat from Sweet Bit!
Bartlett Secrets Historic Walking Tour | July 15th, 7PM – 8:30PM
Ready to discover Bartlett's deepest secrets? From its rich history as the first Texas town with electricity to stories of foiled bank robberies and its walk of fame with movie magic, Bartlett has a past unlike any other! Walk through Bartlett and discover what makes it so incredible with this unique tour!
The Bartlett Lumber Yard has all kinds of endless fun for the summer. Come say hello! Contact me here with any questions!