As you wander the historic streets of Bartlett, Texas, the hustle and bustle of one iconic landmark will draw you closer to the heart of the town. The Bartlett Lumber Yard has quickly become the central hub of the town, known for its exciting events like the monthly Lumber Yard Farmers' Market Weekends, charming shopping destinations, charming onsite lofts, and mouthwatering delicious food trucks!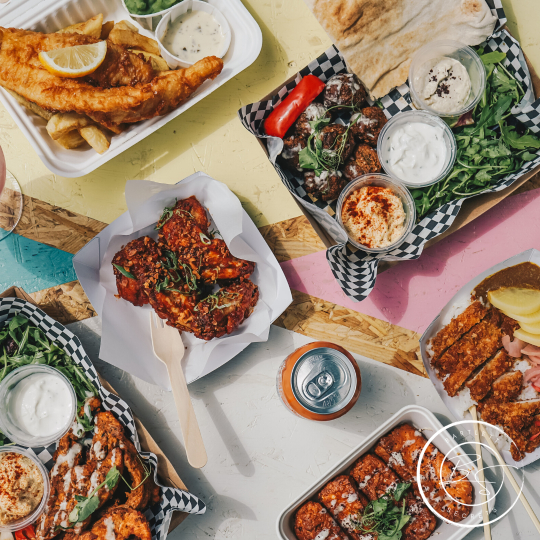 Hungry for more? The Bartlett Lumber Yard now has several new food trucks on the go and ready to serve their favorite community of foodies!
So grab a friend or your entire family, and head over to the Lumber Yard to check out these scrumptious new culinary havens!
Geezers Shaved Ice
Enjoy a sweet summer season with Texas' Geezers Original Hawaiian Shaved Ice. And this isn't just any ol' shaved ice spot in the state. What sets Geezers Shaved Ice apart is their unique and masterful method of making these decadent creations. With a powdered snow-like texture so thin it melts in your mouth, 100% pure cane sugar and natural ingredients in the syrups, and exciting flavors, Geezers has the competition beat!
Perez BBQ
Beloved in the Bartlett community and known across the state as some of the absolute best barbecue food, it's no doubt that Perez BBQ is a Texas staple. After nearly 30 years of serving BBQ, this local favorite has found a new home at the Bartlett Lumber Yard. Choose from artfully cooked sausage, intensely flavorful brisket, chicken, ribs, and so much more. And make sure you stay tuned for their hours because everything goes quickly!
Sweet Bit
A long-time staple at the Bartlett Lumber Yard, Sweet Bit has been serving our friends, neighbors, and family members incredible desserts for many seasons. From extravagantly rich hot chocolates to sweet marshmallows, Sweet Bits is a must-visit destination at the Lumber Yard!
For more information on upcoming events, food truck details, and updates on the Lumber Yard, check out its Facebook page or reach out to me directly! I would love to hear from you.