That old yellow lumberyard building on the other side of the railroad tracks has quite the history in Bartlett. In 1900 it was perfectly positioned next to the railroad tracks for lumber and other building materials and supplies to be offloaded from rail cars right into storage slots in the open framed building. From there, the materials were sold to citizens to build the homes and businesses of the emerging town of Bartlett! The Lumberyard would have sold lumber, paint, hardware, and other building supplies. Its placement next to the rail road tracks would keep it viable for many years even when other businesses would struggle.
Mr T Denson came to Bartlett in 1900 to buy a budding lumber business, originally established as Bartlett Lumber Company, but operated as Denson Lumber Company. In 1910, Mr Denson sold his interest in the Lumber Company and it changed hands through the years operating as Fairchild Lumber Company and Mutual Lumber Company in the early days.
Recently, the old Lumber Yard was purchased with the intention of completing the half-started conversion to apartments that was begun by a previous owner. The Bartlett Lumber Company Lofts will become 12 lofts with studio and 1-bedroom apartment loft units for lease. Additionally, there will be a food trailer park, playground, and mini-storage units available. It is expected that renovations will take 2-3 months and be completed before the end of the year. Loft apartments are available now for pre-leasing.
The owner of the property has applied for a TABC license and, if granted, the food trailer park will have a beer garden. The Lumber Yard Beer Garden will have 6 beers on tap and be open from Wednesday thru Saturday from 4 pm -10 pm and on Sunday from 4 pm -8 pm.
There are also spaces available for a coffee shop, a small cafe/diner, a small business office, and 2 shops and an art studio or showroom.
Over the next few weeks, the buildings on the West side of the Railroad tracks will undergo new paint work, landscaping, and a re-working of the parking layout of the grounds to accommodate the food trailer park in the center of the Lumberyard complex. Parking will no longer be allowed in the center, but instead will be in the front of the building and beside the building (along the side of the lumberyard property next to the Utility Building). In the center of the complex will be picnic tables and a playground with shady spots to eat and relax and enjoy live music after the renovation work is complete.
For now, the sounds of hammering and saws continue as would be appropriate for a lumberyard.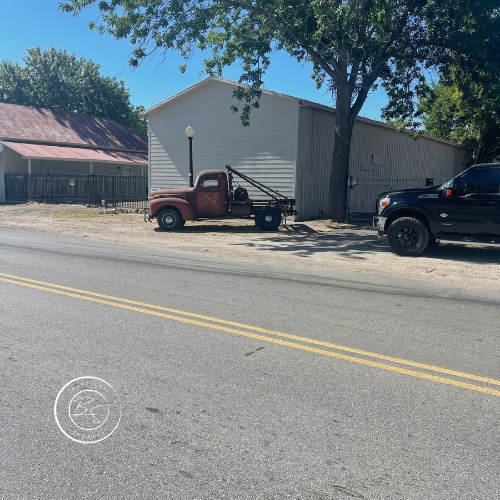 The historic and modern photos have similar views. In the historic photo directly behind the people, you can read "train" on the train station depot in the background.